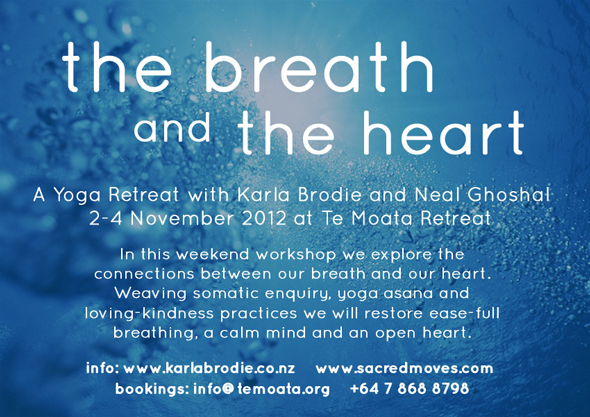 In this weekend workshop we explore the connections between our breath and our heart. Weaving somatic enquiry, yoga asana and loving-kindness practices we will restore ease-full breathing, a calm mind and an open heart.
This will be a weekend in which to release into the organic soft support of the heart and the breath. Te Moata is the perfect setting for our deepening yoga practice – the beauty and spirit of the land, the nourishing and delicious food, and the sensitive kindness of the guardians who run the centre, all combine to offer a weekend of restful coming home to a natural aliveness .
We look forward to holding sacred space for your yoga journey with us,
Neal and Karla
Booking information
Email: info@temoata.org
Call: +64 7 868 8798
About Karla Brodie
Karla is an experienced and qualified yoga teacher. She is inspired to share the practice and philosophy of yoga in a simple, joyful and safe way. Her practical and intuitive approach leads students toward a deeper experiential understanding of breath, balanced posture and integrated movement.
About Neal Ghoshal
Neal creates a safe and inviting space in which to learn and discover yoga as a balance between effort and effortlessness, structural alignment and organic fluidity, mindfulness and spontaneity. He believes that ultimately, the practice of yoga leads us to a place where we may respond to life's challenges with ease in our breath and body, with wise choices, and with kindness and an open heart.
He has taught on teacher training programs in Australia and New Zealand, and is currently part of the faculty on renowned teacher Donna Farhi's Advanced Teacher Training. Neal is also an experienced Holistic and Thai massage therapist, an accomplished musician and kirtan chant leader, and absolutely loves to dance!