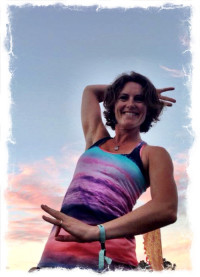 This is an ever-expanding library of some the people who write to me and say thank you for the way I've touched their lives, whether it's through a yoga class, workshop, private session, article, book or at a speaking event.
If you'd like to find out more about who I am and what I offer, click here. If you'd like to get in touch with me directly, click here.
Enjoy!
Kara-Leah
Yoga Workshops & Courses
"Your workshop The Bhavana Immersion was incredible! The amount of layering that out achieved with each focus was very impressive and thought provoking, and I resonated a lot with your style of teaching and how you applied everything. It was all very well constructed and purposeful. I noticed such a transition of energies within myself after each individual focus was worked on. Discernment definitely sticks out in my memory bank as having the most impact on me, by creating such an empowering outcome." ~ Amber Jane Howells

"As a new person to yoga, I found How to Live your Yoga & Rock your Life super helpful, opening my way to exploring new and interesting aspects of yoga. Having all the often mysterious terminology clearly explained and being expertly instructed by Kara-Leah allowed me to feel comfortable trying new things. I highly recommend attending this course — I'm so glad I did and am definitely more confident about yoga going forward." ~ Brena Smith
"First a big thanks I have really enjoy your course How to Live your Yoga & Rock your Life. I wasn't sure when I sighed up if it was really for me but from the very first class I knew it was. It was great the way we all had input into the class & you covered so many different aspects of yoga. You are a natural teacher who has an ability to help people understand & not feeling silly asking questions. I loved this course because it touched on so many things so there was something for everyone. It has given me a hunger for more knowledge so I thank you for that. I wouldn't hesitate to recommend this course to anyone in fact I have already done so." ~ Sue Campbell
"This How to Live your Yoga & Rock your Life introduced me to what yoga is all about. Previously I hadn't thought beyond yoga movement classes with the odd ohm. I found it to be enormously mind expanding and when practiced daily, a very positive life altering experience. The world becomes a much happier place and I want to stay in that happy place so will be furthering my study and knowledge of the 'yogi' lifestyle. Many thanks to Kara-Leah for breaking it down, making it all understandable and also for helping us apply it to our lives with such uplifting effect." ~ Flis Pask
Vinyasa Yoga Classes & Yoga Trance Dance ™
Find out more about K-L's yoga classes.
I have been practicing yoga for many years now under many teachers trying to find a style that resonates with me and I absolutely love Kara-leah's style, its unlike any other I have practiced. Its playful, graceful and fun! She teaches a beautiful balance of energy, physical alignment and yoga philosophy but all in an easy to understand and practical way.  Allowing you to really feel into your own body and listen in to what it needs, no right or wrong just what is and encourages you to explore into your experience. I have learnt so much in Kara-leah's classes about not only Yoga as a Physical practice but yoga as a way of life." ~ Helen Thomas
"Kara-Leah's classes teaches what yoga really is a bout. She's guiding students to find their own practice in a playful and creative way. She is a true inspiration to me, as a student and yoga teacher." ~ Camilla Hogtoft, Hummingbird Yoga
"Kara-Leah's vinyasa classes are so much fun I forget I'm actually doing yoga! The best part is enjoying a wonderful feeling of freedom afterwards – highly recommended." ~ Brena Smith
"Just freak my head out wow, Kara-Leah Grant thank you so much for tonight's trance dance yoga class, I have not felt that close to the source in a long time. I wondered, could Yoga and Dance co-exist as a concurrent practice and the answer is not just yes, but HELL YES. It was intuitive, it was rhythmic, it was smiles and joy and I am still smiling with the afterglow. In summary, I quite liked it :O) Ok, I frikken loved it -more please!" ~ Bruce Foley, on Yoga Trance Dance™
"It was an awesome class Kara-Leah – you created and held the space brilliantly for us to explore dance and yoga together. More please :-)" ~ Aly Titchener on Yoga Trance Dance™

Wow …. Yoga Rhythms!! What can I say apart from Wow!! It was just a great harmony between yoga, dance and flow!! It made me feel so alive, by the end of it I was buzzing naturally!! What I loved so much was how we were just practicing great yoga lead by Kara-Leah and then it just flowed into beautiful dance with epic music from RIA… (really amazing tunes).  The transition of yoga to dance flowed so smoothly I didn't know I was actually already dancing and really feeling the music!! Thanks so much. I really loved the vibe and can't wait for more!! I'm totally hooked!! ~ Laurie Flint on Yoga Trance Dance™ with Yoga Rhythms (full production with DJ RIA).

Yoga Rhythms was such a divine experience. It was the perfect harmony of Yoga, Dance, Rhythm, Movement, Breath and Flow. The amazing Kara-Leah Grant took us on a journey where you were able to completely let go of the outside world and blissfully melt into the present moment – energy flowing through the body and upwards – connected to Self, connected to each other, connected to the Earth, on an all natural high, collectively pulsing and vibing to the raddest tribal beats and tunes by the music Goddess Le Rire . I loved every moment and left totally buzzing and filled with Prana. ~ Rebecca White.
Find out more about K-L's yoga classes.
One-On-One Yoga & Home Yoga Practice Support Sessions
Find out more about K-L's One-on-One Sessions, or Home Yoga Practice Support Sessions.
"I completed my 40th consecutive day of yoga today. I am so grateful. Your program has changed my life in the most wonderful way. The changes in me – physically, mentally, emotionally – it's been amazing. Stuff I would have never thought possible. Or perhaps it's better said that I wouldn't have even thought of it at all. And now it's here and glows brighter day by day. I will always be grateful for your part in my transformation. You are one special being." ~ Mark Wuff, Home Yoga Practice Support Session Graduate
"Working with Kara-Leah one-to-one has made a huge difference to my experience of yoga.

Instead of just focusing on whether or not I can bend my reluctant limbs into this or that asana I am slowly learning a different level of awareness. A way of being in which my breath makes a pathway for my body to become more flexible.

The early beginnings of a harmony between intent and experience. And it works! All achieved through gentle, thoughtful and expert coaching pitched at a level that is never static but encourages extension and development." ~ Marilyn Rimmer
"I trust Kara-Leah totally and highly recommend her one-to-one yoga tuition.

Kara-Leah has a penetrating understanding of yoga, a profound wisdom and deep compassion. She has an amazing ability to read where my energy is and seems to know exactly what needs to happen next, and this has produced some astounding results (not that yoga is about results!).

Her teaching style is rooted in tradition and yet innovative, and Kara-Leah is comfortable adapting in the moment to suit my needs and restriction. Kara-Leah is a gifted teacher…she's also fun, so expect to laugh as you learn." ~ Tim Roberts
Find out more about K-L's One-on-One Sessions, or Home Yoga Practice Support Sessions.
The No-More-Excuses Guide to Yoga
Find out more about The No-More-Excuses Guide to Yoga here.
"From the moment I picked up Kara-Leah's new book The No-More-Excuses Guide to Yoga I loved everything about it – from the clever, inviting front cover to it's size and of course it's content. It's a brilliant reference book for anyone and everyone; whether you are just about to take your first step onto the path of yoga or you've stomped a million of 'em. It's one of those books you can just pick up and open to any page and there's valuable information to be devoured; and you don't want to put it down; and class is starting; and you've got to go; really; NOW.

As studio owners and teachers, we've all heard the endless excuses about why people fall off the yoga wagon or never get on it in the first place. We've probably used the majority of them ourselves at different times in our lives. But in our own growth and evolution, we often forget how very intimidating it can be for newbies and can easily dismiss their feelings of apprehension. After all it might have been 10 or 20 years ago we first looked at ourselves in the mirror in a yoga class; we've looked a trillion times since so the apprehension doesn't exist in our reality anymore. Every studio owner and teacher should read this book just for those reminders.

I knew that if I got so much out of reading this book, it would be a valuable resource for my students as well. It has been flying out the door as it's very reasonably priced. I have had some wonderful feedback. Many love the conversational style in which it's written; like you are having a chat with Kara-Leah on the comfy couch at home. The language is broken down and explained in a way that cuts right to the heart of the matter. There's no wiggle room here – the excuses are all annihilated.

Every studio should stock this book for their students. Learning never stops. Yoga; what a vast and wondrous subject it is. My deepest desire is that people just give themselves a chance – yoga class can be very confronting and we don't like to be uncomfortable. But this is where the true work lays and thus it truly is for everyone. Kara-Leah has a gift and she has done a brilliant job at getting this message across." ~ Kristina Anderson, Modern Yoga Napier
Find out more about The No-More-Excuses Guide to Yoga here. Read Press & Media here.
Forty Days of Yoga
Find out more about Forty Days of Yoga here.
"My book arrived yesterday! I dove straight in to it and have to say that it is the best yoga book I have found. I have been searching for a yoga book to help with my home practise and have found the other books on the market miss the spot- too focused on the poses and not the integration of yoga into daily life. I am really looking forward to starting my 40 days of yoga. Very happy with my purchase :-)" ~ Bonnie Struthers, Australia
"Forty Days of Yoga is a powerful resource for anyone interested in committing to a home yoga practice. Drawing from her years of experience, Kara-Leah beautifully shines a light on all the myriad obstacles, internal and external, that one can face when undertaking a self-directed practice while living an ordinary life in the world.

Packed full of ingeniously practical worksheets and examples from Kara-Leah's own life, this book invites one inwards to reflect honestly and creatively on one's own process and aspirations. And it is all done in a wonderfully holistic, all-inclusive way, so that one's whole life becomes part of the solution, rather than being seen as a 'problem'. I highly recommend this beautiful book!" ~ Peter Fernando, Insight meditation teacher and creator of A Month of Mindfulness online course.
"Forty Days of Yoga is absolutely brilliant. It is a powerful crystalizing of Kara-Leah's accumulated experience of flourishing her own practice in the reality of day-to-day life, complete with so many of the common challenges. The worksheets are a fantastic way for readers to put the wisdom shared in the narrative of the book into immediate action. I love that the whole reading experience feels just like sitting down to a cup of tea with KL. And that is a treat indeed!" ~ Kelly Fisher, Director of Urban Yoga, Wellington
"There is an esoteric secret to Yoga to receive its many wonderful gifts. You already do Yoga! You practice in the way that is right for you – actually, naturally and non obsessively until there is no issue. It's just like brushing your teeth or taking a shower – daily and no big deal. Yet we have an inbuilt resistance to practicing and overcoming obstacles to life. Please read Kara-Leah's book because she will help you through this and initiate you into daily practice. You will become a Yogi and dive deep into your intimate life in every way." – Mark Whitwell author, Yoga of Heart, The Healing Power of Intimate Connection and The Promise of Love, Sex, and Intimacy, How a Simple Breathing Practice Will Enrich Your Life Forever
"Knowing Kara-Leah's musings I didn't even pause before considering downloading Forty Days of Yoga. Such a happy surprise to find it stays away from prescription of yoga poses but instead fills my practice with questions that have me thinking and meanings that add substance. It is a truly enriching book." ~ Cate Peterson, YogaPass.
"I've read the first 10 or so pages of your book and LOVE it! This needs to be in print and go global – I don't know anyone who doesn't struggle with a home practice. Thanks for writing it x" – Deb Macaulay, YLB Reader
"Forty Days of Yoga is a great book that helped me realise what was holding me back with my own practice.  From beginning to end it filled me with inspiration and lots of 'light-bulb' moments. Now I  feel I am on the right track and have the tools I need to keep me there.  Many many thanks Kara-Leah. – Lu Cox, Yoga Teacher
"Your book is GREAT! So appreciated. It's like you were in my head and put everything to page. It's inspired me to hunt down what's kept me from the mat in the past and move forward in a compassionate way." – Seka Ojdrovic-Phillips, International Yoga Teacher
"Hey just read your first chapter. Totally love it. It's a knock out winner. You've hit the mark. Looking forward to reading the rest." – Aly Titchener, YLB Contributor
"You are my yoga angel. I got your book last week, stayed up late to read it cover to cover the next day, and didn't even wait to complete the worksheets to dive in and practice my first of 40 days first thing the next morning. I promise to write more when I complete my 40 days, but I just wanted to take a moment to tell you that your book was everything I had hoped it would be and more.

I've attended weekly yoga classes on and off over the past 10 years (mostly off) and never got anything more than the basic asana instruction. I love that the book gave me the side of yoga that I was sorely missing–the part I could deeply relate to as someone who has practiced and studied Zen for many years.

As a woman in her 50s with a bit of arthritis I've known that adding a regular yoga practice to my daily meditation practice was something that would help. But I just couldn't stir up the energy to go to another class, and kept seeing my Zen practice and yoga as separate. Reading your book help me connect asana practice to the Zen practice I was already doing, and it was all I could do to put the book down and wait for the next day.

Your book is well organized, beautifully written, and complete, and has just the right level of detail. Thank you for your teaching. It made an immediate difference in my life." ~ From Maya
"I've felt frustrated trying to find the right classes, times, and locations to keep yoga in my schedule. And most home yoga instruction is over-simplified, disconnected 'watch this video and follow along'.

Maybe you've tried to recreate a flow from your favorite class in your living room, but it feels like a disappointing imitation… In Forty Days of Yoga, Kara-Leah Grant takes you so much deeper, guiding you into a home yoga practice that is alive with customization and creativity. This is much more than a reference book about poses or a personal development pep-talk. If you're attempting to do yoga at home, this is a fantastic set of tools." – Slade Roberson, intuitive counselor and author of Shift Your Spirits 
"I LOVE this book. I think you've done a brilliant job. 40DoY is going to work so well for me, it's like you were writing it specially for me! I've never had a problem knowing 'what' to do in a home practice (and yet I keep buying yoga books), for me it's all about the mind. There were so many 'aha!' moments for me while I was reading, and I feel really confident now that I can keep on top of the self-talk and obstacles that have stopped me in the past." – From Diane Mulholland, Reach Pilates
Find out more about Forty Days of Yoga here. Read Press & Media here.