By Jennifer Hanning, Yoga In Tahiti
Kia ora, fellow Kiwis! Even though I moved to Australia in my early twenties, I still call New Zealand home and try to get back every year.
Australia has been good to me, helping me get over a devastating betrayal – which is why I ran away from home – and providing me with a lovely man and a long career with a software development team.
However, in 2008, something especially wonderful happened – my whole team was retrenched and I found myself out of work for the first time. What a blessing that was for me, as I could not have willingly walked away from a secure, high-paying job. But what would I do now?
Along with other types of fun exercise – including hip-hop and pole dancing – I'd enjoyed going to yoga classes for many years. Perhaps it was because I was no longer a kid in my forties that I decided upon training to become a yoga teacher.
At the time it was simply to be a career change, so imagine my surprise when I discovered it was life-changing.
Friends and family began to remark on the subtle changes in me, even before I noticed them myself. I had always jumped into life exuberantly but, although I'm still as passionate about everything I do, my energy now comes from a calmer, more centered place.
Not far into my first year of training, I became blissfully aware that I was exactly where I was meant to be in life.
After attaining my Diploma in 2009, I began teaching while I continued to study, graduating a year later with an Advanced Diploma.
Life changes constantly, yet I continue to feel I am always exactly where I'm meant to be, even in times when events don't turn out as I had hoped. I love life to the max, and the beginnings of a smile is my default expression … except when the neighbours throw an all-night party!
Expect good things to happen and they will.
When I applied for a teaching job at a retreat in Tahiti I knew there would be a pile of applications, but I also knew I had to have a go.
Like me, I'm sure many will remember the TV advertisement where a family turn their private jet around because;
I have never been to Tahiti but have dreamed of going there, so being accepted into the program shot me straight up to Cloud Nine.
I hope you will join me, however, some may prefer a stronger more intensive yoga experience, so have a look at all four weeks on the agenda and choose the class type and teacher that draws you the most. Flights from New Zealand to Tahiti are direct and relatively short.
Planning three hour morning classes for one group of people over five days is invigorating. And with the afternoons free for us to explore and discover the delights of Huahine – well, I doubt that it gets much better than that. So grab your partner, spouse, or friend – or come on your own; I guarantee you won't be lonely.
In my classes I'll be teaching varieties of:
Pranayama – Breathing Techniques: Excellent for all your internal systems; i.e. circulatory, endocrine, digestive, immune, cardiovascular, the nervous system and of course the respiratory system. I spent decades thinking I was breathing okay before discovering the energy, vitality, and clarity that develops with Pranayama.
Asana – Physical Exercise: As I am also a Yoga Therapist, you will receive advice on caring for your spine, and guidance into pure and safe movements within the joints for functional synergy, all the while gently strengthening and toning all your muscles. Modern living can causes our bodies to create many compensations, leading to degeneration and pain further down the track. We need to stop this from happening.
Relaxation Techniques: As an author of fiction as well as self-help books, I am fortunate to have an expansive imagination, and I write my own visualisations. These segments take students on journeys – sometimes into MindBody work, and often into much needed timeout holidays from their busy lives.
Meditation: Some of my students wish to deepen their meditation practices while many come to me because of physical pain, or mental agitations such as anxiety and/or panic attacks, stress, or wanting to wean off depression medication or sleeping pills. Being part of the progress of anyone's meditation journey is one of the greatest joys in my life. Many feel they are incapable of meditating but that is simply because they don't know how to prepare for meditation. This is why I wrote a book called Stepping Stones to Meditation, which is well received by student-teachers at VIYETT, the academy where I did my training. This book is also available from Amazon.
If you know any retired folk, or anyone in physical or mental pain who may not necessarily be thinking about yoga, they might like to consider coming to the Yoga in Tahiti retreat for their next holiday.
Please let them know I'll be gentle with them – or as assertive as they need. The main thing is that everyone leaves the island feeling that they've had the best holiday ever. Equally important will be the methods and techniques learned for improving health and happiness, taking the knowledge home and knowing that it is always accessible.
I would love to hear from you but even better, come and see me in October in beautiful Huahine, Tahiti.
You can find out more, and register, on the Yoga in Tahiti website.
About Jennifer Hanning: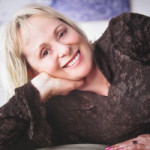 New Zealand born Jennie lives in Melbourne, teaches yoga and meditation, and is the author eight published books. She also writes and produces Relaxation CDs and mp3s for Google Play. For more information about her classes and life, please visit her website or get in touch via email.